The Cycle Path Five Star Fit
A Rider Measurement & Rider Style Fit System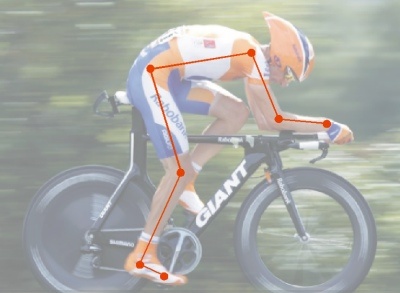 Why Do I Need This?
Does your neck or shoulders get tired? Do you have numb feet or hands? Do you want to ride further and faster? A Five Star Bike Fit from Cycle Path may be just what you need
Let one of our expert bike fitters spend time with you to determine what can be done so that you can get the most out of riding your bike.
Your Riding Style is Important to Us
How does your riding style affect proper fit? Do you want to ride the bike path on a bike that lets you sit upright where you get a good view of the scenery. That calls for a different fit approach than for a racer who needs to be positioned for optimum power transfer and aerodynamics to attain high speed.
We understand that bike fit stars with YOU and your intended use and we go from there.
Bike Components are Adjustable
Beyond the size of a bike, the components contribute to a good fit. The placement of the seat is a good example. What is the best height for your bike seat? The tilt of the seat and the forward and back adjustments should also be considered. Other items to know more about include: stem length, stem height, crank length, handlebar width, handlebar shape and many more.
Our fitting will help you dial all of this in.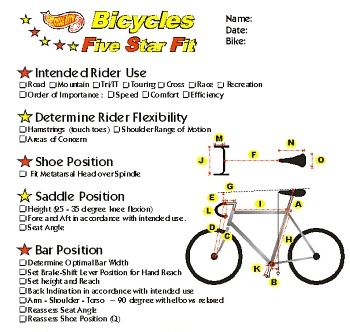 No Matter Where You Bought Your Bike, The Five Star Fit Can Benefit You
Helping our customers get the right fit is something we love to do. Even if you didn't buy your bike from us, don't worry. Bring your bike by for a complimentary review of the Five Star Fit basics. This will help you determine what changes, if any, you might want to consider.
Have Your Bike Tailored to You
What Does the Five Star Fit Include:
This service includes gathering as much information about the rider through an interview followed by a quick flexibility test.
We then set the rider and his or her bicycle up on a stationary trainer (provided by us).
Our expert fitter will asses your position on the bike and make suggestions and adjustments to make you more comfortable and powerful on their bike. This involves tuning the the bicycle (seat height and angle, fore and aft saddle position, handlebar width and drop , and stem length and angle) We may include some quick hints on riding form and body alignment here as well if we see there is a need for this.
The Five Star Fit service includes cleat fitting.